WEEKLY SERVICES

Sunday:
Sunday School @ 10:00am
Worship @ 11:00am

Wednesday:
Youth group &Adult Bible study @ 7:30pm
MONTHLY MINISTRY ACTIVITIES
Prayer Vigil: Third Friday of the month, @11:00 p.m. - Watch men and women "on the wall" engage in prayers and wage war against the power of darkness. Come join us in this higher form of prayer, intercessory prayer. Through this powerful medium men and women of God like Nehemiah, Daniel and Deborah got God's attention won His favor for their people. God is counting on you to stand in the gap for your country and your people (Ezekiel 22:30).

Food and Fellowship Sunday: Third Sunday of the month—The church family and visitors share lunch and testimonies together after the service.

As the early Church was in the habit of sharing food and fellowship together, we at ALIFE have also dedicated the third Sunday of the month to break physical bread together and to enjoy the fellowship of one another after the Worship Service. You are cordially invited.

Communion Sunday: First Sunday of the month. In obedience to His command to do this in remembrance of Him, we celebrate our Lord Jesus Christ in the Holy Communion every first Sunday of the month. We are so blessed that our Lord has left us with this wonerful legacy and we are so delighted to celebrate it thankfully.

Hour of Refuge: Third Wednesday of the month. Instead of the usual weekly Bible study we wait on the Lord in prayer through out the time scheduled for this program (7:30-9p.m.). With this program we respond to the exhortation by Apostle Paul to be "anxious for nothing, but in everything by prayer and supplication, with thanksgiving, let your requests be made known to God." (Philippines 4:6). As we follow this injunction, we are confident that "the peace of God, which surpasses all understanding, will guard our hearts and minds through Christ Jesus, our Lord.


MINISTRY OUTREACH
Monthly Worship Service: First Saturday of the month, @ 10:30am, Lawrenceville Nursing & Rehabilitation Center, Lawrenceville, NJ

.

MISSIONS

Mission to India

In October 2006, Pastor Akin Bankole along with Mother Pearl Forde and Sister Esther Taylor took a mission trip to India. The team spent a week in North India with Pastor Mahi Pal Singh and the Pentecostal Church of God in Etah, Uttah Pradesh, North India. During this visit, Pastor Akin, Mother Forde and Sister Esther ministered in churches, schools and at special events, including open air services. The team also visited Pastor Daniel and the Voice of the Gospel Ministries in Thrishur, Kerala, South India. The team visited and ministered at some of the Mercy Homes, a Ministry of the Voice of the Gospel, including the Ambassadors Mercy Home and the Cornerstome Mercy Home. Pastor Akin also preached at a hall packed Women's Convention. Over the two weeks visit to both of the North and South Indian Ministries, many people gave their lives to the Lord and many received healing and deliverance. To God Be The Glory!

Mission to El Salvador

In June 2009, our former Praise and Worship Leader, Ms. Oyin Bankole left for El Salvador to join the Assembly of God's Master's Commission program. Oyin was in El Salvador for one year and a couple of months during which she joined other colleagues at the King's Castle to minister the love of Jesus Christ to the people of El Salvador. Oyin's program in El Salvador also included studying toward becoming a Youth Minister. She will be back in El Salvador for her graduation ceremony. Please join us in thanking God for granting her a safe and fruitful residence and ministry in El Salvador. We are delighted to have Oyin back and to see her play key roles in the worship and teaching ministries of the church.
In June, Minister Oyin went back to El Salvador to work at the King's Castle as a Summer Intern. She worked with several teams from different countries, including the United State to do outreaches to minister the love of Jesus Chrsit to the young people people of El Salvador.

In August, a group of seven adults and youth from Abiding Love went on a mission trip to El Salvador and the team worked with Oyin and her team as well as a number of young people from the King's Castle Ministry. During the seven days that the group spent in El Salvador, we did outreaches in different parts of San Salvador, reaching young and older people with the message of God's love through dramas and songs. Many young people gave their lives to the Lord and a few adults did too. In addition, God did mighty miracles during those outings, including giving a three year old boy who never walked the strenght and ability to walk for the first time in his life. To God Be The Glory.
DISCIPLESHIP
Coming Soon: Abiding Love International School of Ministry
It is with great delight that Abiding Love International Fellowship announces the opening of a Vision International Extension Institute (California) affiliate program. After praying, planning and surveying of the needs of the Christian community of Trenton and its neighboring towns, this comprehensive Bible and Theology program is being established.
Vision International Extension Institute, a program of the Vision International Education Network, was begun in 1974 in Tasmania, Australia. Since coming to the states in 1983, it has grown into an international program that offers Bible College education in qualified local churches in over 150 nations. Abiding Love International Fellowship has been chosen as a site of this outstanding Adult Education program designed for local church development and local community outreach in the Trenton area of New Jersey.
The degree programs offered through Vision* include: (1) Certificate IV in Christian Ministry; (2) Diploma of Christian Ministry; (3) Advanced Diploma of Christian Ministry; and (4) Bachelor of Ministry or Bachelor of Arts in Christian Studies with emphasis in Christian Education, Christian Counseling, Theology, and Leadership, directly through Vision International University.
Further, Vision International is able to matriculate a student on an independent study towards their Master's degree in the same disciplines listed above.
Abiding Love International School of Ministry, 210 Genesee Street, Trenton, NJ, will begin classes in January, 2013. We will begin with offering courses leading to the Certificate IV in Christian Ministry. For more information contact Pastor Akin (609-273-3051) or Pastor Kemi (609-273-4651) or the church office (609-392-0032) or e-mail us at Pastor@alifechurch.org. We look forward to serving your needs in this area.
*Vision International has degree granting authority in California (Headquarters), and Louisiana. Program offerings may vary slightly from state to state. For more information on accreditation, and our various programs, see us at www.vision.edu.
CELEBRATION
New Church Building Opening/Thanksgiving Service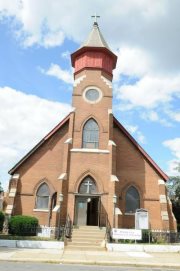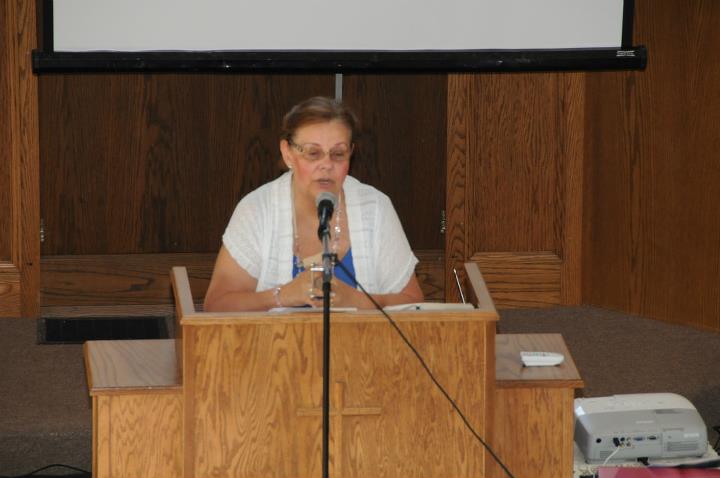 To God be the glory for His wonderous work towards men. On July 2nd 2011, we formally opened our new church facility. On the said day, the Abiding Love family enjoyed the company of families and friends in a service of gratitude and thanksgiving to the Lord for His favor and provision. We are so grateful to God that it pleases Him to grant us the privilege of celebrating our 5th anniversary in our permanent home. You can view more pictures from this event on our
Facebook
.
We want to use this opportunity to thank all our families, friends and associates who have through their prayers and donations supported our efforts to repair and renovate the buildings. Through their support we have been able to move our Sunday services from the rectory to the sanctuary. We are almost done with work in the basement of the sanctuary and about to begin work in the community center. We continue to count on your support to put all of the buildings to use for the Glory of God and for the upliftment of our community, located in the heart of Trenton, NJ. Please, click the "donate" botten below to bless us with your financial contribution in support of this goal. God Bless You Richly.
DIRECTION
Unless otherwise stated, all church services and programs take place in our facility at 210 Genesee Street, Trenton, NJ 08611 (Get direction here).